10/780 Tot. Questions | Updated on 2023/03/08
10/780 Questions | Updated on 2023/03/08
Random | 10 Ques. | 20 Min | 70% to pass
---
You're on a long motorway journey. What should you do if you start to feel sleepy?
B.
Stop on the hard shoulder for a rest
C.
Drive faster to complete your journey sooner
D.
Leave the motorway and stop in a safe place
You're driving a slow-moving vehicle on a narrow, winding road. What should you do?
A.
Keep well out to stop vehicles overtaking dangerously
B.
Wave following vehicles past you if you think they can overtake quickly
C.
Pull in when you can, to let following vehicles overtake
D.
Give a left signal when it's safe for vehicles to overtake you
What's the legal minimum depth of tread for car tyres?
In very hot weather the road surface can become soft. What will this affect?
Your doctor has given you a course of medicine. Why should you ask how it will affect you?
A.
Drugs make you a better driver by quickening your reactions
B.
You'll have to let your insurance company know about the medicine
C.
Some types of medicine can cause your reactions to slow down
D.
The medicine you take may affect your hearing
Where would you see this sign?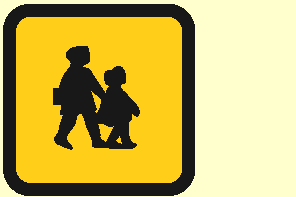 A.
In the window of a car taking children to school
B.
At the side of the road
D.
On the rear of a school bus or coach
As a driver, why should you be more careful where trams operate?
A.
Because they don't have a horn
B.
Because they can't stop for cars
C.
Because they don't have lights
D.
Because they can't steer to avoid you
What should you do when making a journey in foggy conditions?
A.
Follow other vehicles' tail lights closely
B.
Avoid using dipped headlights
C.
Leave plenty of time for your journey
D.
Keep two seconds behind the vehicle ahead
What's the national speed limit on motorways for cars and motorcycles?
There's a tractor ahead. You want to overtake but you aren't sure whether it's safe. What should you do?
A.
Follow another vehicle as it overtakes the tractor
B.
Sound your horn to make the tractor pull over
C.
Speed past, flashing your lights at oncoming traffic
D.
Stay behind the tractor if you're in any doubt
Category B1 Practice test unlocks all online simulator questions
Thank you for choosing the free version of the Category B1 practice test! Further deepen your knowledge on Driving License Simulator; by unlocking the full version of our Category B1 Simulator you will be able to take tests with over 780 constantly updated questions and easily pass your exam. 98% of people pass the exam in the first attempt after preparing with our 780 questions.
BUY NOW
---
What to expect from our Category B1 practice tests and how to prepare for any exam?
The Category B1 Simulator Practice Tests are part of the Driving License Database and are the best way to prepare for any Category B1 exam. The Category B1 practice tests consist of 780 questions divided by 14 topics and are written by experts to help you and prepare you to pass the exam on the first attempt. The Category B1 database includes questions from previous and other exams, which means you will be able to practice simulating past and future questions. Preparation with Category B1 Simulator will also give you an idea of the time it will take to complete each section of the Category B1 practice test . It is important to note that the Category B1 Simulator does not replace the classic Category B1 study guides; however, the Simulator provides valuable insights into what to expect and how much work needs to be done to prepare for the Category B1 exam.
BUY NOW
Category B1 Practice test therefore represents an excellent tool to prepare for the actual exam together with our Driving License practice test . Our Category B1 Simulator will help you assess your level of preparation and understand your strengths and weaknesses. Below you can read all the quizzes you will find in our Category B1 Simulator and how our unique Category B1 Database made up of real questions:
Info quiz:
Quiz name:

Category B1

Total number of questions:

780

Number of questions for the test:

50

Pass score:

80%

Number of topics:

14 Topics
Study topics:
Number of questions:
Alertness:

28 Questions

Documents:

137 Questions

Hazard Awareness:

44 Questions

Incidents, Accidents, Emergencies:

30 Questions

Motorway Rules:

51 Questions

Other Types of Vehicles:

70 Questions

Road and Traffic Signs:

67 Questions

Rules of the Road:

59 Questions

Safety & Your Vehicle:

39 Questions

Safety Margins:

79 Questions

Show Me, Tell Me:

12 Questions

Vehicle Handling:

23 Questions

Vehicle Loading:

60 Questions

Vulnerable Road Users:

81 Questions
You can prepare for the Category B1 exams with our mobile app. It is very easy to use and even works offline in case of network failure, with all the functions you need to study and practice with our Category B1 Simulator.
Use our Mobile App, available for both Android and iOS devices, with our Category B1 Simulator . You can use it anywhere and always remember that our mobile app is free and available on all stores.
Our Mobile App contains all Category B1 practice tests which consist of 780 questions that are divided by 14 topics and also provide study material to pass the final Category B1 exam with guaranteed success. Our Category B1 database contain hundreds of questions and Driving License Tests related to Category B1 Exam. This way you can practice anywhere you want, even offline without the internet.
BUY NOW