10/918 Tot. Questions | Updated on 2023/03/08
10/918 Questions | Updated on 2023/03/08
Random | 10 Ques. | 20 Min | 70% to pass
---
Question 1/10
Vehicle Weights & Dimensions
You're driving a lorry with a maximum authorised mass of more than 7.5 tonnes along a three-lane motorway. When may you use the right-hand lane?
A.
to overtake slower lorries
B.
when the left-hand lane is closed
C.
if you do not go faster than 60 mph
D.
if you are not towing a trailer
Question 2/10
Drivers Hours & Rest Periods
During your working day, you change to another vehicle with the same type of tachograph. How should you keep your tachograph record up-to-date?
A.
Use the chart that is already in the other vehicle
B.
Take the chart with you and use it in the other vehicle
C.
Record your driving hours in a record book
D.
Install a new chart in the other vehicle
When would you use an escape lane?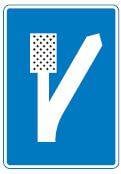 B.
When carrying a dangerous cargo
C.
When your brakes have failed
D.
When emergency repairs are needed
What can you do to help maintain concentration while you're driving?
A.
Eat sugary snacks when on duty
B.
Have regular meals and rest breaks
C.
Don't eat at all when on duty
D.
Avoid meals containing bread
What should you do before driving your high-sided lorry in windy weather?
A.
Check your wind deflector
B.
Check your spray suppression equipment
C.
Plan your routein advance
D.
Only half load your lorry
The area around an incident is safe. What's the best way to help an injured person?
A.
Get them out of the vehicle
C.
Give them something to eat
D.
Keep them in the vehicle
What does this warning light on the instrument panel mean?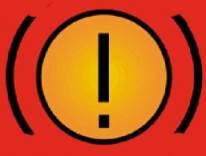 How should you stand when you're lifting a heavy object?
D.
Keeping your feet together
You're unloading an end-tipper lorry. What should you do before tipping the body?
A.
Make sure the vehicle is on a firm, level surface
B.
Park facing uphill to make unloading easy
C.
Make sure the vehicle is on a soft, sloping surface
D.
Park downhill for easier unloading
What does 'blind spot' mean?
A.
An area of road covered by your right-hand mirror
B.
An area of road covered by your left hand mirror
C.
An area of road that can't be seen, even with mirrors
D.
An area of road that is not lit by your headlights
Category C Practice test unlocks all online simulator questions
Thank you for choosing the free version of the Category C practice test! Further deepen your knowledge on Driving License Simulator; by unlocking the full version of our Category C Simulator you will be able to take tests with over 918 constantly updated questions and easily pass your exam. 98% of people pass the exam in the first attempt after preparing with our 918 questions.
BUY NOW
---
What to expect from our Category C practice tests and how to prepare for any exam?
The Category C Simulator Practice Tests are part of the Driving License Database and are the best way to prepare for any Category C exam. The Category C practice tests consist of 918 questions divided by 14 topics and are written by experts to help you and prepare you to pass the exam on the first attempt. The Category C database includes questions from previous and other exams, which means you will be able to practice simulating past and future questions. Preparation with Category C Simulator will also give you an idea of the time it will take to complete each section of the Category C practice test . It is important to note that the Category C Simulator does not replace the classic Category C study guides; however, the Simulator provides valuable insights into what to expect and how much work needs to be done to prepare for the Category C exam.
BUY NOW
Category C Practice test therefore represents an excellent tool to prepare for the actual exam together with our Driving License practice test . Our Category C Simulator will help you assess your level of preparation and understand your strengths and weaknesses. Below you can read all the quizzes you will find in our Category C Simulator and how our unique Category C Database made up of real questions:
Info quiz:
Quiz name:

Category C

Total number of questions:

918

Number of questions for the test:

50

Pass score:

80%

Number of topics:

14 Topics
Study topics:
Number of questions:
Accident Handling:

51 Questions

Braking Systems:

59 Questions

Documents:

21 Questions

Drivers Hours & Rest Periods:

72 Questions

Environmental Issues:

64 Questions

Leaving the Vehicle:

20 Questions

Other Road Users:

79 Questions

Restricted View:

31 Questions

Road & Traffic Signs:

82 Questions

The Driver:

99 Questions

The Road:

127 Questions

Vehicle Condition:

79 Questions

Vehicle Loading:

73 Questions

Vehicle Weights & Dimensions:

61 Questions
You can prepare for the Category C exams with our mobile app. It is very easy to use and even works offline in case of network failure, with all the functions you need to study and practice with our Category C Simulator.
Use our Mobile App, available for both Android and iOS devices, with our Category C Simulator . You can use it anywhere and always remember that our mobile app is free and available on all stores.
Our Mobile App contains all Category C practice tests which consist of 918 questions that are divided by 14 topics and also provide study material to pass the final Category C exam with guaranteed success. Our Category C database contain hundreds of questions and Driving License Tests related to Category C Exam. This way you can practice anywhere you want, even offline without the internet.
BUY NOW